This post explains the changes that affect existing site users prior to March 2021 who administrated their team members Online Dangerous Goods Training qualifications
New Learning Environment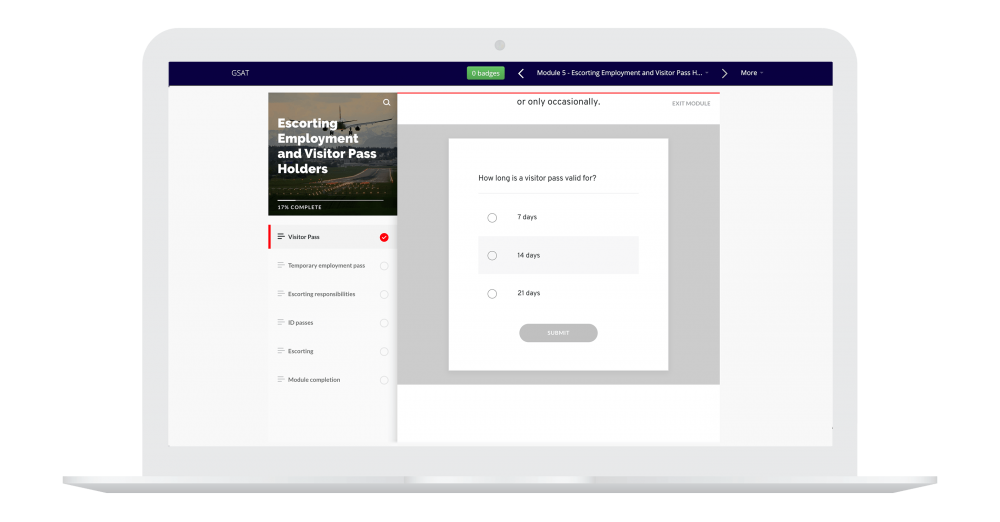 All candidates taking their Online Dangerous Goods Training course now get access to our purpose built learning environment, featuring industrial grade robustness and speed. Existing candidate managers should note that we are in the process of automatically transferring any candidates in progress to the new learning environment to continue their course. If you feel any of your candidates have not been carried over please contact us
New Candidate Manager Interface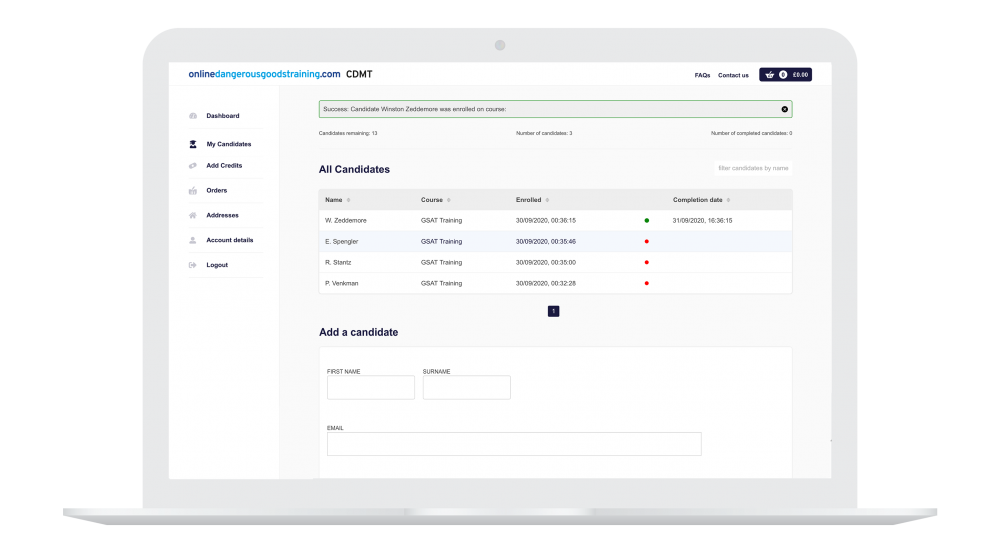 For people administrating the Online Dangerous Goods Training qualifications for their team members, we have created a new Candidate Manager Interface to allow you to better understand your team members progress. We are in the process of automatically transferring existing accounts to the new database, to access your candidate manager area, either click the My Account link at the top of every page or login on the My account page
One first login, all existing users will have to reset their password for security.
On your new candidate manager dashboard you can see all users you have added to our new learning environment that have recently completed their course along with a link to download their certificate. The amount of credits, or candidates that can be placed on a course, and a form to add new candidates to the learning environment.
From the navigation a candidate manager can also view
All Candidates – view all your candidates at a glance, and click in to view more details
Add Credits – Top up your available credits to add more of your team to their Online Dangerous Goods Training course
Orders – view and download PDF invoices of past candidate credit orders
Addresses/Account details – edit your account details
How do my candidates login to their course?
When a user has been successfully added to our learning environment via the candidate manager interface they will receive an email with login details for how to complete their course. This is a notable change for users who are familiar with our old system.
For existing candidates with a course in progress, please contact us
What happens to my existing sponsor codes?
We have automatically transferred across unspent existing candidate manager sponsor codes and added them to a candidate managers credit total. If you think there is an error with your credit total please contact us
I require an existing Candidates Certificate
For existing customers that require a copy of a certificate for an existing team member who has completed their Online Dangerous Goods Training within the past 5 years, please contact us
If you have a question regarding users who were in progress with their Online Dangerous Goods Training course prior to March 2021 please see our FAQs